WOODBURY: Wayne Williams, Woodbury FFA Chapter President at Cannon County High School, will attend the Next Gen: Animal Systems Conference in Denver on Feb. 28, 2023.
Fifty applicants were selected out of the competitive pool of National FFA memberships.
The conference program includes:
New and emerging ideas, trends and products in animal systems
Advocacy and engagement
Sustainable agriculture
Career/college plan development
Chapter/community engagement
Williams said, "I am extremely honored and excited to be selected to attend the Next Gen: Animal Systems Conference. This truly is a once in a lifetime opportunity and I can't wait for all the experiences that lie ahead at this conference. I hope to learn more about the animal industry as a whole and the advancements in technology that are coming to this industry. This conference will allow me to bring back ideas and trending topics to my family's beef operation for my supervised agriculture experience and to my chapter."
"I am extremely excited for T. Wayne to have this opportunity. He is truly the epitome of what qualities an FFA member should possess and represents Woodbury FFA and Cannon County High School Agriculture Department through all of his endeavors," said Emily Haley, Woodbury FFA Advisor, Cannon County High School.
The conference provides attendees insights into the animal industry that can be shared with local FAA chapters. These will impact future career development events, leadership contests and conferences.
The National and local FFA prepare students for a variety of career paths. The FFA mission statement is, "FFA makes a positive difference in the lives of students by developing their potential for premier leadership, personal growth and career success through agriculture education."
"T. Wayne is an outstanding young man and scholar," William Freddy Curtis, Director of Cannon County Schools said. "This is a tremendous opportunity, not only for Mr. Williams to experience, but that he will bring back a world of information to share with his fellow agriscience (sic) students at Cannon County High School. We wish for him to have a unique experience that will be life-changing and rewarding for him personally in his agriculture journey. T. Wayne represents Cannon County Schools as one of our best. I appreciate his personal efforts to help in the mission of Cannon County Schools, 'to actively engage in excellence every day in every way.' He is most assuredly doing that in his chosen field of agriculture," Curtis said.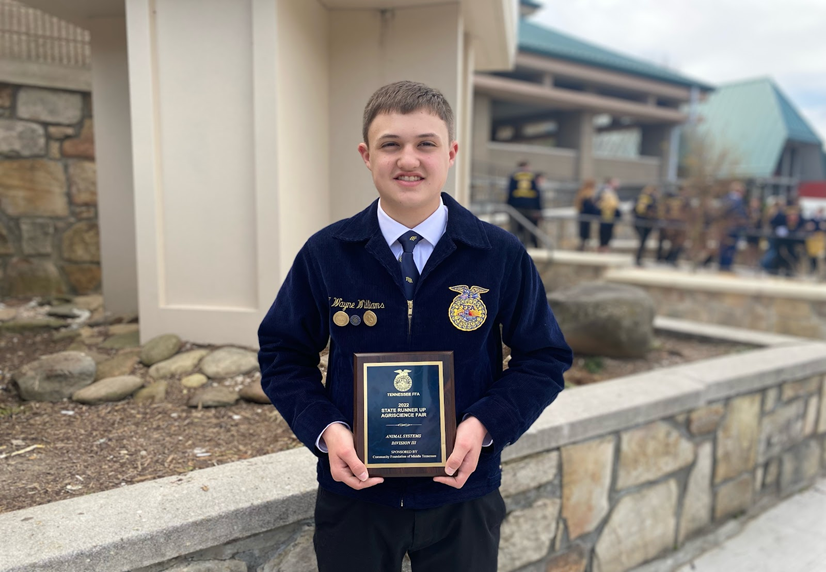 T. Wayne Williams
Contact William Freddy Curtis, Director of Cannon County Schools, at (629) 201-4801, ext. 10101, or at williamf.curtis@ccstn.net for information.